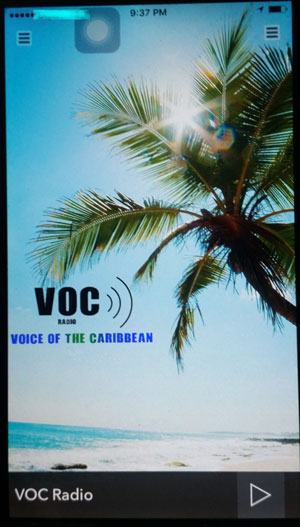 Basseterre:— St. Kitts-based online radio station Voice of the Caribbean (V.O.C.) Radio (www.voiceofthecaribbean.net) has officially launched its mobile apps for both Apple and Android devices. Managing Director for Voice of the Caribbean Radio, Andre Huie said in a press release that the apps are available free of cost in both the Apple App Store and the Google Play Store. "Just search V.O.C. Radio or Voice of the Caribbean Radio in both app stores and you will be able to download the app free of cost," he said. "With the V.O.C. Radio App you can listen to Voice of the Caribbean live and listen to our programs in the V.O.C. On Demand webpage. It's a convenient way to have VOC Radio on the go without having to be confined to a desktop or laptop computer," Huie added.
Launched on October 7, 2016, Voice of the Caribbean Radio boasts over 3000 listeners a day and over 10,000 listeners per month from various parts of the world. "We have seen a boost in listeners at the turn of the year from various countries around the world including: The Netherlands, Germany, the US, St. Maarten, French St. Martin, Anguilla, Barbados, Jamaica, Spain and many more including St. Kitts and Nevis of course," Huie disclosed.
Voice of the Caribbean Radio (shortened V.O.C. Radio) is an online current affairs and entertainment radio station featuring Caribbean-centric content for the Caribbean nationals in the diaspora and across the region. It features news and current affairs programs, sports entertainment. Programs include: Caribbean News Hour, which is a comprehensive Caribbean news package comprising the Carib Update News Service, the OECS Newslink and Caribbean Sports Roundup; The VOC Report, which features in depth interviews and presentations by some of the Caribbean's top newsmakers with host Andre Huie; Caribbean Sports Talk—a program that focusses on the topical sports subjects in the Caribbean covering the respective countries in the region and Caribbean Newsroom—a weekly look at some of the Caribbean news happenings of the week analyzed by journalists across the region.
Another program includes Inside Politics—a half-hour program focused on analyzing some of the news of the week in Caribbean politics with guest analysts from around the region. Persons wanting to listen to some of these programs on demand can also do so in the VOC On Demand page on the station's website. V.O.C. Radio also feature music programs like Caribbean Classics, The Drive Time Session, Saturday Vibes and G Vybez among several others. Persons wanting more information can contact Mr. Huie at 662-2200 or email vocradio@mail.com. Persons can also like the Facebook page (Voice of the Caribbean Radio) or follow on twitter: @vocradio1.
Source: St. Martin News Network Voice of the Caribbean Radio launches mobile apps.