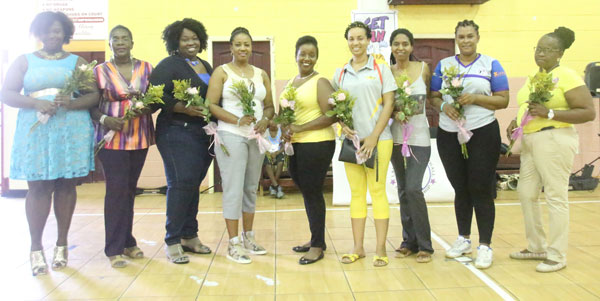 PHILIPSBURG:— The Walichi Basketball Association took time out on Sunday before Game 1 of the Ladies Basketball Championship Finals to honor these women for their contributions to the league and the community in honor of International Women's Day this past Tuesday, March 8th.
Ms. Inocencia Leonard of Leonard Enterprise was thanked for being the main sponsor of the league this year and for consistently giving back to the youth and community. Ms. Emilie Beencha, secretary of Thunderz Basketball Club was honored for being the secretary of the club, in charge of the girls, being a part of the club for 5 years and being a part of female basketball development.
Honored was Minister of Sports Ms. Silveria Jacobs who is a volleyball player and an avid sports lover. She can be seen at various youth and sport events supporting the youth. President of Parliament, Hon Ms. Sarah A. Wescot-Williams was thanked for giving LBC her support by coming out and watching her granddaughter play as well as speaking at our various opening ceremonies.
Ms. Kaleria Brown is a police officer and on the discipline board of Walichi Basketball Association. She was thanked for making our community a safer place. Ms. Jessica Weeks was honored for being a lawyer and on the discipline board. She can also be seen coming to the LBC games and IBC games supporting the youth.
Ms. Stephanie Deerveld was honored for being a teacher at Sr. Magda Primary School, a former basketball player and assistant coach to a male basketball team. She recently took time out and coached the Sr. Magda boys team in the Interscholastic Basketball Championship. Ms. Nathalie Rubini was also honored for being a two time award winning head referee at CTBSM on the French Side.
Ms. Brenda Maynard was honored for assisting LBC, IBC and for being a member of the discipline board. Lastly, Ms. Flosisca Brown was honored for being a loyal fan of the league by coming to many games and for participating in the breast cancer awareness march with the league.
The Walichi Basketball Association would like to shine the light on these wonderful ladies in our community.
Source: St. Martin News Network Walichi Basketball Association Honors Women For International Women's Day.