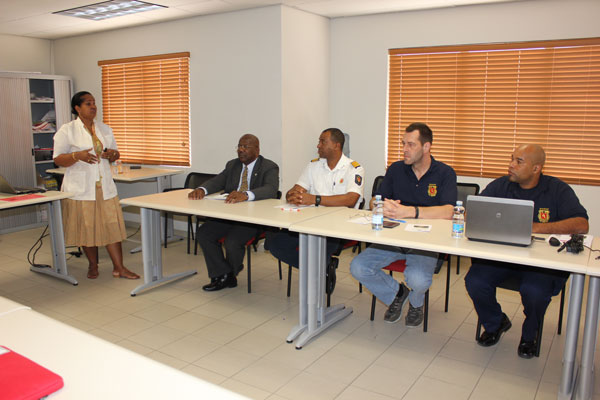 PHILIPSBURG:— With no treatment or vaccine available, it should be a priority to prevent the zika virus from becoming an epidemic on our island.
The Ministry of public Health, Social, development, and Labor, in particular the Collective Prevention Services(CPS) section General public Health, gave a presentation about the Zika virus on Friday at the Fire Department. The presentation was given by the head of CPS Dr. Virginia Asin .
Present were the honorable Prime Minister William Marlin, representatives of VROMI, members of the office of disaster management team, CPS, amongst others.
In her presentation, Dr. Asin informed that the Zika virus is a virus transmitted by the Aedes aegypti mosquito , who also transmits the Dengue, and Chikungunya. Because the virus is transmitted by mosquito's, Dr. Asin outlined the importance of preventing and eliminating mosquito breeding sites.
She also outlined the symptoms of the virus which can include fever, rash, headache, and body aches.
Because of Zika's potential link to medical complications, the ministry is busy looking into the best and most effective approach to get rid of the mosquitos.
Other than Fogging, which is well known on the island, Ministry VSA is currently busy with a trial of the mosquito Trap N-Kill system, a lethal ovitrap system. The Mosquito Trap-N-Kill is a reusable mosquito trap that attracts mosquitos to lay their eggs. Mosquitos entering the trap will be killed by the insecticide after entering the trap.
500 of the lethal trap systems were placed in the Fort Willem area a few weeks ago. The ministry is expected to receive the results of the system in about 2 weeks. Once the results are in, they would be able to examine its effectiveness.
In the meantime, the community is reminded that the most important action to take is to help prevent and eradicate mosquito breeding sites as a community effort. By eliminating mosquito breeding sites, especially around your home, it can lower the risk of being bitten by mosquitos. Some examples of breeding places are: discarded tires, bottles, garbage cans, and buckets that are left outside and filled with rain water. The elimination of mosquito breeding places has been most effective concluded Dr. Asin.
Source: St. Martin News Network Zika virus has become a global hype.