CAY HILL–Positive and Elektralyets Foundations, in collaboration with Collective Prevention Services and corporate sponsor Kooyman, hosted their second annual Men's Night Out on Saturday, September 16.
The event aimed to raise awareness of prostate cancer and encourage men to get a prostate-specific antigen (PSA) test. This year's event focused on the importance of sports, movement and healthy nutrition for reducing risk factors.
Hundreds of men eagerly lined up outside Kooyman on Saturday. Attendees were welcomed with an Appleton drink from ILTT and received free "Man Up Check UP" T-shirts upon entry.
More than 250 men attended the event, which featured a panel discussion with urologists Dr. Ramos and Dr. Rojas, sports advisor Jisk Goslinga, physiotherapist Naomi Korstanje, dietician Karen Eusebius, and prostate cancer survivor and advocate Michael Ferrier. The panellists shared valuable information, answered questions, and engaged with the audience.
The event also featured a variety of activities, including a surprise prostate cancer awareness performance by Hillanthe Lynch and a workout to Machel's Montano's "Happiest Man Alive." CPS was on hand to distribute prostate cancer pins and pamphlets while attendees enjoyed healthy snacks from FitFoods, beer tastings in the Blue Lounge, and the chance to win prizes from Flow. Fun Miles and other vendors were also present, and DJ Flip kept the atmosphere lively with entertainment throughout the evening.
The primary objective of this year's Men's Night Out event was to raise awareness about minimising the risk factors for prostate cancer through sports, movement, and healthy nutrition. The event was successful in achieving this objective, with attendees showing a high level of engagement and interest in the panellists' responses.
Many attendees felt comfortable opening up and even made suggestions for the Health Ministry to consider. It was heartening to see men openly and candidly discussing their health concerns in a supportive and informative environment, event organisers said.
Positive and Elektralyets Foundations received an overwhelmingly positive response from attendees. The atmosphere was one of togetherness and brotherhood, with attendees showing a keen interest in the panellists' discussions.
The foundations were able to distribute lab forms to encourage men to undergo PSA testing at St. Maarten Laboratory Services (SLS).
On September 23, the Positive and Elektralyets Foundation will collaborate with St. Maarten Medical Center (SMMC), SLS Labs, and other healthcare providers to host Men's Health Day at SMMC from 9:00am to 3:00pm. Men are urged to pre-register at
This email address is being protected from spambots. You need JavaScript enabled to view it.
document.getElementById('cloakfa6da17e2be9a8b74d317c8ed5517ec9').innerHTML = ";
var prefix = 'ma' + 'il' + 'to';
var path = 'hr' + 'ef' + '=';
var addyfa6da17e2be9a8b74d317c8ed5517ec9 = 'communications' + '@';
addyfa6da17e2be9a8b74d317c8ed5517ec9 = addyfa6da17e2be9a8b74d317c8ed5517ec9 + 'smmc' + '.' + 'sx';
var addy_textfa6da17e2be9a8b74d317c8ed5517ec9 = 'communications' + '@' + 'smmc' + '.' + 'sx';document.getElementById('cloakfa6da17e2be9a8b74d317c8ed5517ec9').innerHTML += ''+addy_textfa6da17e2be9a8b74d317c8ed5517ec9+";
and have their PSA tests done in advance. The foundations will cover the cost of PSA testing for all uninsured males and PSA lab forms can be collected at SMMC.
Kooyman, which has collaborated with the foundation for many years on breast cancer awareness, supported the foundations' prostate cancer registration drive in 2019, which attracted more than 100 participants. Dr. Ramos and Dr. Rojas expressed concern about prostate cancer on the island and sought the foundations' assistance in raising awareness. Together with Collective Preventive Services, they came up with the concept for Men's Night Out, which aims to educate men about the importance of regular check-ups and self-care.
Additionally, a group of prostate cancer survivors, warriors and men from the community who call themselves the "Blue Faces" volunteered their time and efforts to participate in the Man Up Check Up poster and social media campaign. The campaign was supported by sponsors such as Kooyman, Benu Pharmacy, ILTT, and Flow, as well as other volunteers and supporters. The campaign was also supported by Gordon Snow, Michael van Grieken, Dr. Ramos, and Dr. Rojas.
The Man Up Check Up campaign aims to raise awareness about prostate cancer and encourage men to undergo regular check-ups. The blue faces of the campaign serve as a reminder of the importance of early detection and treatment.
Positive and Elektralyets Foundations hope to continue bringing awareness to men in this community by continuing their awareness efforts through events like Men's Night Out and Let's Talk about Sex and Health screenings. "We also will continue to try to be innovative and work in close collaboration with other healthcare partners in the sector to encourage our men to be more self-aware of men's health issues and self-care."
Positive and Elektralyets Foundations thank all partners, supporters, donors and volunteers for their help in promoting men's health awareness in the community. "Our message is a clear call to action to the men in our community to Man Up Check Up!"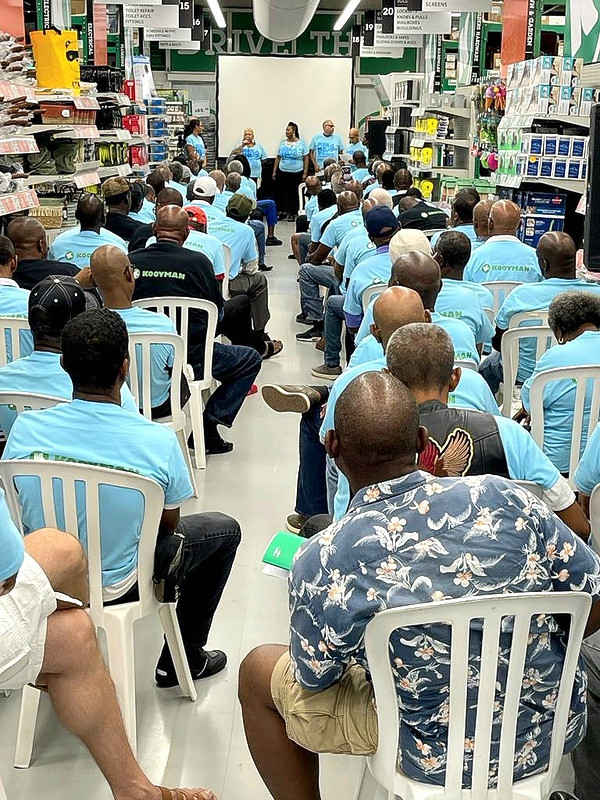 Source: The Daily Herald https://www.thedailyherald.sx/islands/250-attendees-gathered-for-the-second-annual-men-s-night-out