Awardees from left Anthony Bryan, Elvet Hughes, Florence Harrigan, Mona Fleming and Avon Carty (representing her late father).
  Webster said that today Anguillians face different challenges, and although the island is far from the lack of roads and electricity faced in 1967, there is an economic crisis created by coronavirus COVID-19 and the effect it has had on the tourism and related industries. He asked all Anguillians to work together and inspire the next generation. "Reflection, renewal and reunion," he said, are necessary for the future. He said that the tourism industry must be enhanced by expanding the market and expanding the airport.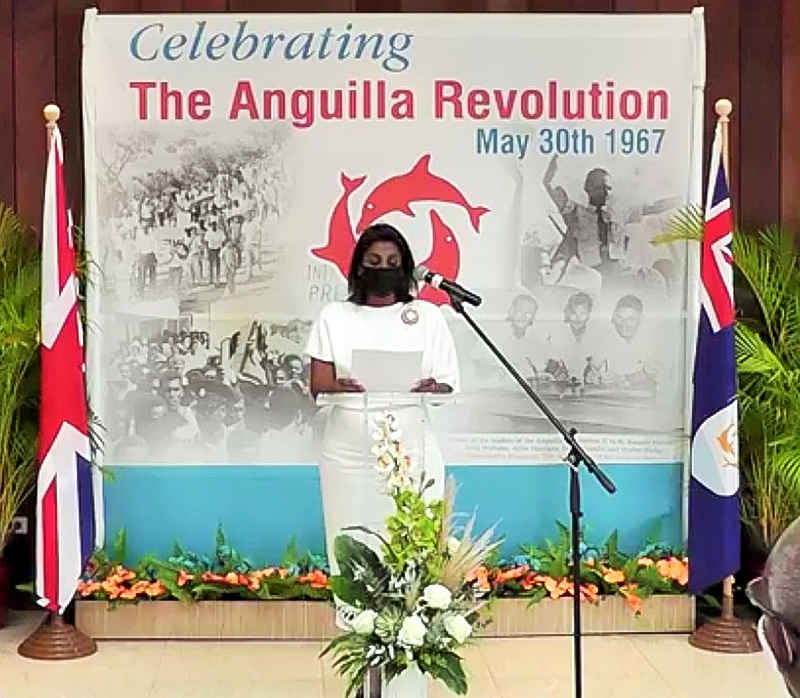 Governor Dileeni Daniel Selvaratnam giving an address on Anguilla Day.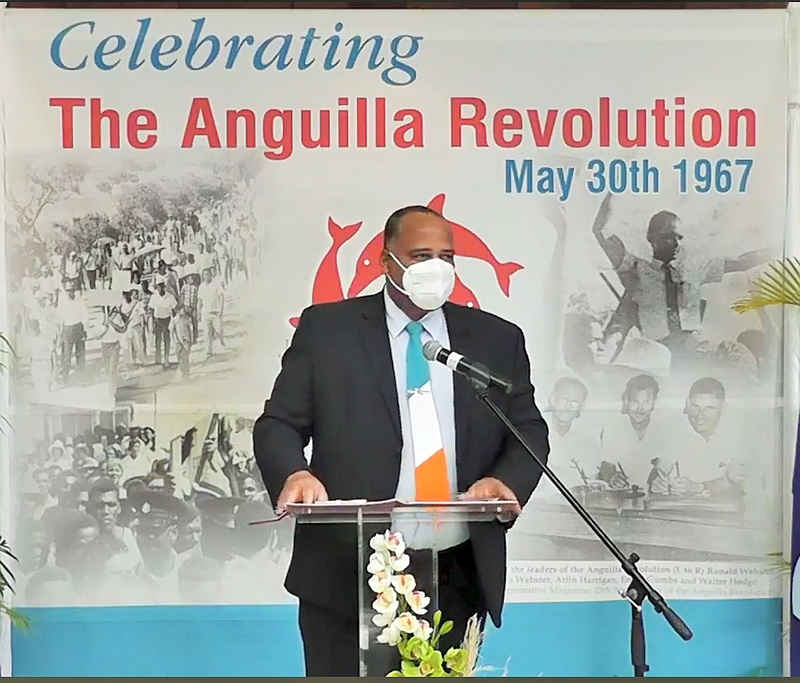 Premier Ellis Lorenzo Webster on Anguilla Day.

ANGUILLA–During his Anguilla Day address, Premier Ellis Lorenzo Webster spoke of the bridge between the past, present and future, and Anguillians around the world. He noted the conditions in Anguilla in 1967 and the debt of gratitude that people today owe to the revolutionary leaders. He said that Father of the Nation Ronald Webster stood up for justice and progress.
Governor Dileeni Daniel Selvaratnam expressed appreciation to the revolutionaries who she described as the architects of Anguilla's future. She said that the faith of the nation remains strong and Anguilla has been known over the years to rise to challenges and overcome difficulties. She wished everyone a Happy Anguilla Day and congratulated the honourees who she said are an inspiration. She praised the work of the healthcare teams, the Royal Anguilla Police Force and all front line workers, noting that working together has kept the island safe and set Anguilla apart both regionally and internationally.
  Leader of the Opposition Cora Richardson Hodge said that the current unique situation has changed the way that Anguillians live. She said that in the face of adversity Anguillians have always been resilient and that the fighting spirit of the revolution lives on in the hearts and minds of Anguillians. This she said has meant that people have used their talents to support their families, and many new small businesses have started. She urged everyone to continue to work together and to re-commit to building a new Anguilla as people develop the nation, equip children with education tools they need, and continue innovative ways to move forward.
  The honourees were presented with a badge of honour and a certificate by the Premier and Miss Anguilla 2019-2021, Latonya Mussington. The awardees are Mona Fleming, Anthony Bryan, Florence Harrigan, Elvet Hughes and Clive Carty (posthumously).
  The virtual ceremony was chaired by Permanent Secretary Chanelle Petty Barrett, included a presentation by calypsonian Dr. Splinter with one of his best-known calypsos "Honour our Greats", and Hyacinth Hughes read one of her poems "Anguilla Look where you Came From".
Source: The Daily Herald https://www.thedailyherald.sx/islands/anguilla-day-speakers-recall-1967-and-revolutionary-heroes