Lynn Costenaro (left) and Emily Malsack (right) of Sea and Learn Foundation proudly wearing their Mission Blue shirts.
Saba Sea and Learn Foundation submitted the request for Saba and the Saba Bank in July last year, and was informed recently that Mission Blue, led by legendary oceanographer Sylvia Earle, had been declared a Hope Spot. Hope Spots are special places that are scientifically identified as critical to the health of the ocean.
Special place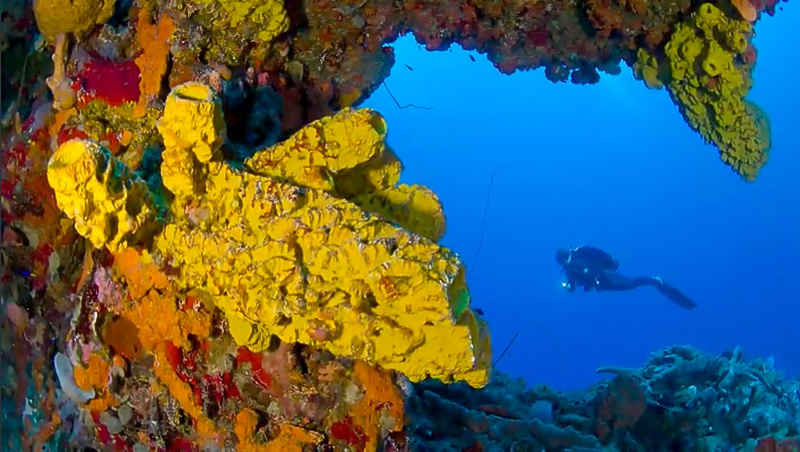 Diver and sponge overhang in Saba waters.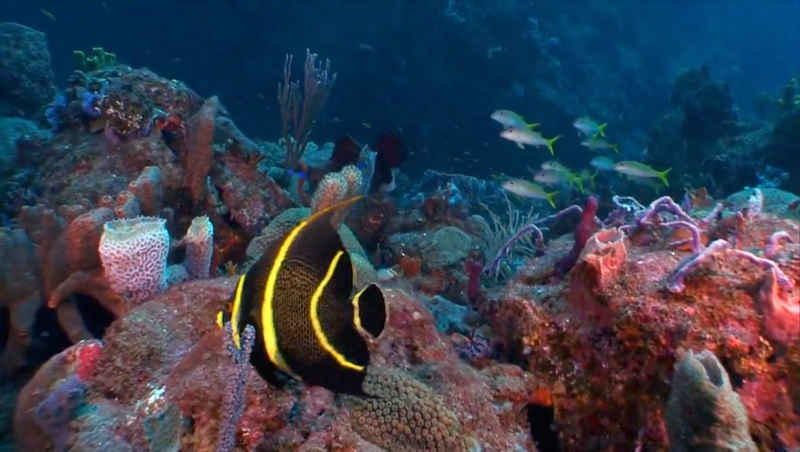 Fish on a reef in Saba waters.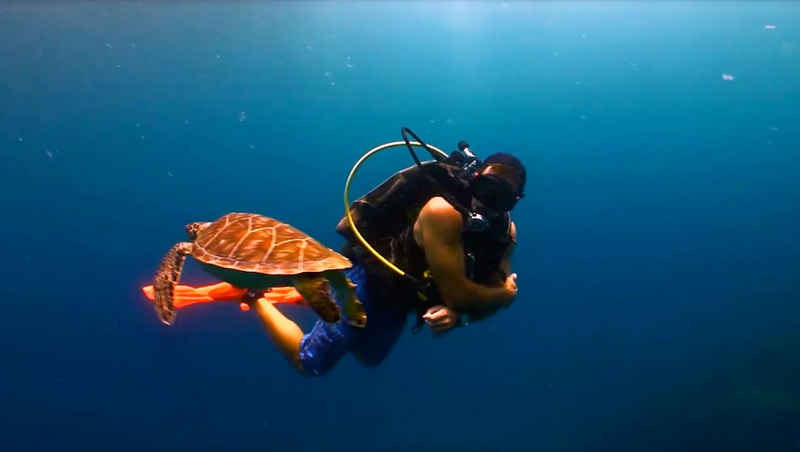 Diver and sea turtle in Saba waters.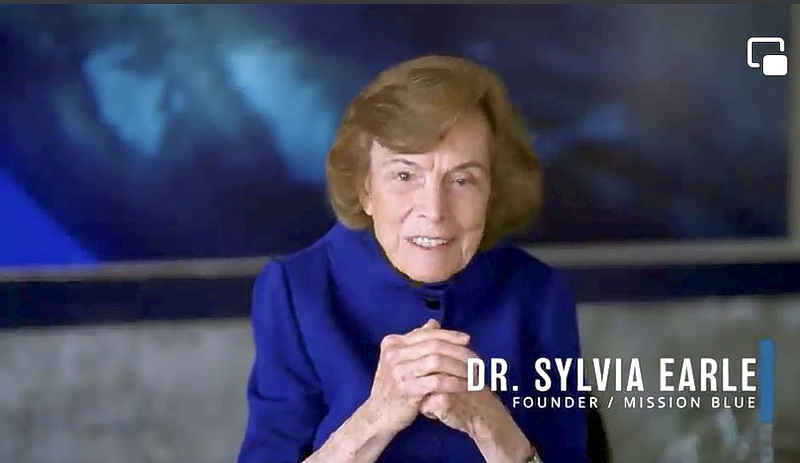 Sylvia Earle of Mission Blue.
SABA–Prestigious international marine conservation organisation Mission Blue recently declared Saba and the Saba Bank a Hope Spot in recognition of the ongoing efforts to ensure long-term sustainability and health for the island's waters. Saba is the first Hope Spot in the Dutch Caribbean.
"I've seen for myself what a special place this is," said Earle, founder of Mission Blue. "So much of the Caribbean has been depleted, but this place has had some protection for a long time. The Saba Bank is the largest actively growing underwater atoll in the Caribbean. Even with its research just beginning, it is apparent how valuable this area is to the region. Saba Bank is an example of the success of long-term care," Earle said.
The Hope Spot designation will put Saba in the spotlight for its achievements and garner future support if needed, stated Sea and Learn Founding Director Lynn Costenaro and Operational Director Emily Malsack. Designating Saba as a Hope Spot will not only connect Saba to more than 140 like-minded organisations dedicated to the protection of the ocean, but will encourage other islands in the region to follow Saba's example, they said.
Shining example
Sea and Learn Foundation's goals for the Saba Hope Spot are threefold: science, research, and exploration; restoration; and education and outreach. "Our primary goal for establishing the Saba and the Saba Bank Hope Spot is to promote science, research, and exploration in our own backyard," explained Malsack.
"Saba and the Saba Bank are a shining example of how historical resource management can provide a hopeful future in an increasingly jeopardised world," said Costenaro.
According to Conservation International, Saba is one of only eight locations around the world to score 99 on its Ocean Health Index, demonstrating that the island is working effectively to conserve the region's rich variety of species and habitats, reduce extinction risk and maintain and restore marine habitats.
Biodiversity hotspot
Saba Conservation Foundation (SCF) Executive Director Kai Wulf described some of the marine life in Saba's waters. "The Saba Bank is a biodiversity hotspot in the Caribbean, providing critical habitat for sea turtle species, more than 200 species of fish, a breeding ground for numerous shark species, including large tiger sharks, migratory humpback whales and vulnerable seabird species, specifically red-billed tropicbirds and Audubon's shearwaters," he said.
California Academy of Sciences Islands 2030 programme Director Lauren Esposito voiced her support. "I have been carrying out scientific research in the Eastern Caribbean for the past 20 years through various international to national projects and I am convinced that the biodiversity-centric economy of Saba makes it poised to be a leader among a region of tourism-dependent struggling economies."
Abundance
"The Saba Bank's abundance was one of the main reasons for the original settlement of Saba and it is no less important today. Amazingly, there is still so much to learn about this cornerstone of the Saban way of life. We welcome any contributions to sustainability and study of the Saba Bank that this designation may provide, and are grateful for all who contributed towards it," said SCF President Peter Johnson.
"As public entity Saba, we support environmental awareness and protection. We are honoured to have Saba designated as a Hope Spot by Mission Blue and we compliment Sea and Learn Foundation for their work and dedication," said Commissioner Bruce Zagers.
Royal visit
The announcement to designate Saba and the Saba Bank as a Hot Spot came on the eve of the much-anticipated visit of King Willem-Alexander and Queen Máxima of the Netherlands and their daughter Princess of Orange Catharina-Amalia to Saba on Thursday, February 9.
During their one-day visit, the royal family will learn more about the innovative urchin restoration project at Saba Research Center at Fort Bay Harbor. Saba Research Center will be the first marine lab in the Dutch Caribbean Windward Islands where applied research can take place and is expected to attract visiting scientists to study Saba's resilient marine life.
Saba Research Center will be overseen by SCF, which also manages Saba Marine Park, established in 1987 and encompassing the entire island from the high-water mark to a depth of 60 metres (200 feet), including the seabed and overlying waters.
The opening of Saba Research Center coincides with Sea and Learn Foundation's 20th anniversary. Costenaro's vision of enhancing environmental awareness came to life with the launching of Sea and Learn in Saba in 2003. Sea and Learn Foundation provides the platform to support the research of these organisations with public outreach and citizen science activities for the entire community of Saba, as well as visitors.
About Mission Blue
Mission Blue inspires action to explore and protect the ocean. Led by oceanographer Sylvia Earle, Mission Blue unites a global coalition to inspire an upwelling of public awareness, access and support for a worldwide network of marine protected areas known as Hope Spots. Under Earle's leadership, the Mission Blue team implements communications campaigns that elevate Hope Spots to the world stage through documentaries, social media, traditional media and innovative tools like Esri ArcGIS.
Source: The Daily Herald https://www.thedailyherald.sx/islands/mission-blue-designates-saba-as-a-hope-spot