PHILIPSBURG— A Bulgarian national suspected of involvement in skimming activities was handcuffed by detectives on arrival on St. Maarten on Saturday. The 22-year-old man had in his luggage various devices that are believed to be intended for skimming purposes.
Skimming occurs when devices illegally installed on ATMs, point-of-sale (POS) terminals, or fuel pumps capture data or record cardholders' PINs. Criminals use the data to create fake debit or credit cards and then steal from victims' accounts.
The arrest was the result of coordinated actions of the Alpha Team, consisting of members of St. Maarten Police Force KPSM, the Customs Department, the Immigration Department, the Koninklijke Marechaussee, and the Coast Guard.
After his arrest, the suspect B.R.M was promptly taken into custody and subsequently interrogated by members of the Alpha Team.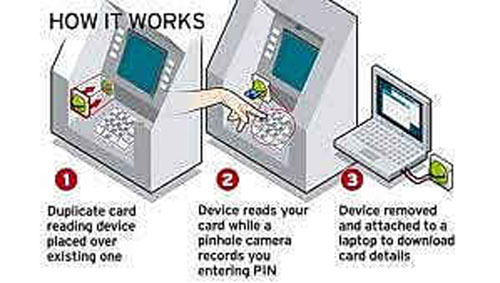 "The arrest of the Bulgarian national marks a significant achievement in the ongoing fight against financial crimes, specifically skimming," law enforcement said, adding that "further updates regarding this case will be shared as they become available."
The Alpha Team, known for its multidisciplinary approach and expertise, has been at the forefront of combating criminal activities. The Alpha Team and its member organizations remain steadfast in their dedication to maintaining law and order, protecting the community, and ensuring a safe environment for residents and visitors alike.
Source: The Daily Herald https://www.thedailyherald.sx/islands/police-detain-suspect-carrying-credit-card-skimming-devices