Young celebrants.
Organised by the Ministry of Education, Culture, Youth and Sport (ECYS), this grand event brought pupils, teachers, parents and community members together for an early celebration of St. Maarten Day.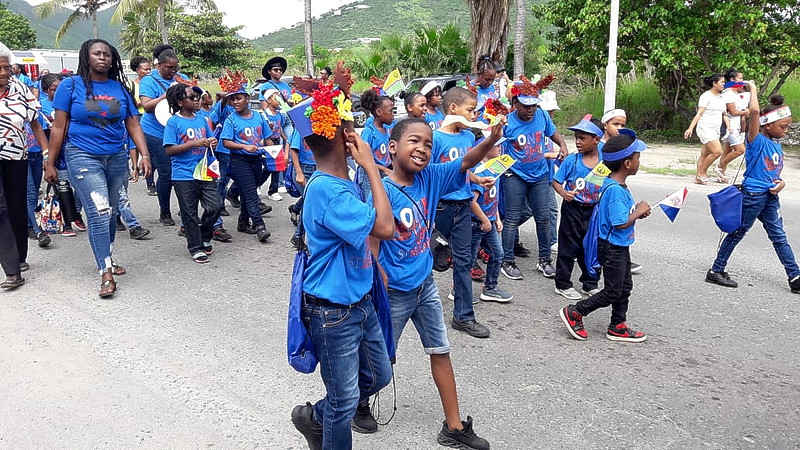 Many pupils were seen adorned in crafted cultural headpieces.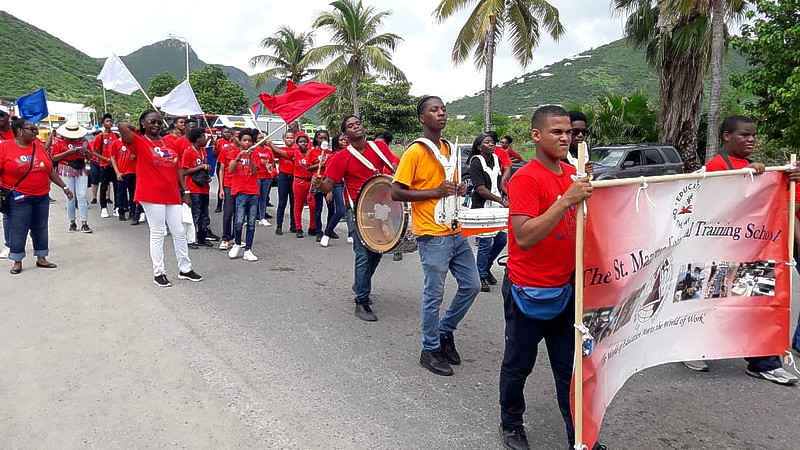 Students of St. Maarten Vocational Training School also participated in the parade.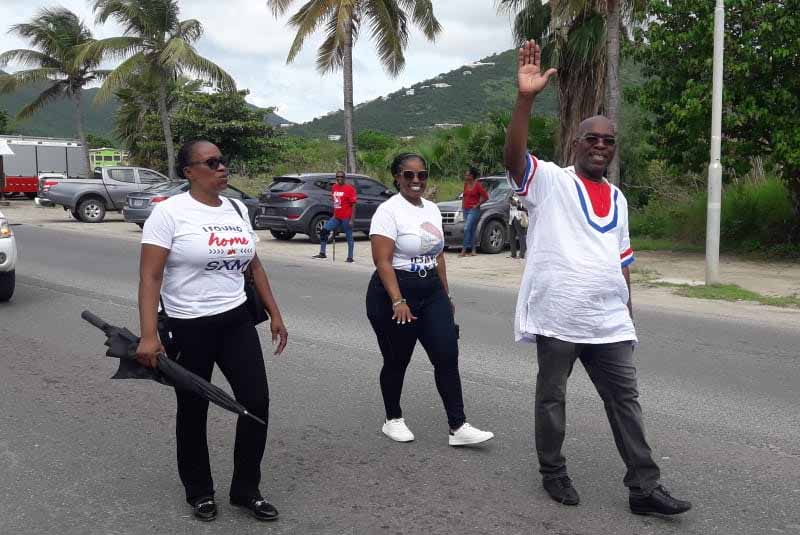 Minister of Education Rodolphe Samuel and Minister of Justice Anna Richardson also joined the parade.
PHILIPSBURG–In a remarkable display of unity and cultural pride, the public schools of St. Maarten came together to celebrate the annual Pre-St. Maarten Day Parade.
The festivities commenced with a St. Maarten Day programme held at the Great Bay Sports Auditorium on Thursday morning. Adorned in red, white and blue shirts, pupils from all seven public schools gathered, each representing their school through coordinated colours.
The programme showcased a splendid array of colourful costumes, lively music and captivating performances, offering a glimpse into the rich cultural mosaic of St. Maarten. Pupils from various schools proudly exhibited their creativity and talent through traditional dances, melodious songs and artistic displays.
The event kicked off with a rendition of the St. Martin song, with all pupils joining in the spirited chorus. This was followed by an opening address by Minister of ECYS Rodolphe Samuel, who also sang a song titled "Jesus Wants Me For a Sunbeam" alongside the pupils.
Marie Genevieve de Weever Primary School (MGDW) impressed the audience with their recitation of a poem titled "St. Maarten Back Then", while the pupils of Oranje School presented a cultural expression. Leonald Connor School took the stage next, delivering a short skit that depicted some of the country's historic culture.
The Mighty Dow captivated the crowd with an entertaining performance of the "St. Maarten Rumba", showcasing the vibrant local music scene. Martin Luther King, Jr. Primary School paid tribute to the late Celestino Arrindell through a captivating rendition of the poem "Ah Say Come", leaving a lasting impression on all in attendance.
Prins William Alexander School uplifted spirits with their heartfelt performance of the song "I Love St. Maarten" and Sweet Pan Entertainment added to the festive atmosphere with their renditions of local melodies.
Ruby Labega School concluded the programme with an energetic performance of the "St. Maarten Rumba" dance.
Following the programme, the pupils took to the streets, marching from the sports auditorium, onto Frontstreet and eventually to the Government Administration Building, marking the end of a memorable event that showcased the unity and cultural heritage of St. Maarten pupils.
Source: The Daily Herald https://www.thedailyherald.sx/islands/st-maarten-public-schools-unite-in-vibrant-celebration-of-cultural-heritage