Meteorological Department of St. Maarten (MDS)
At 5:00 PM (2100 UTC), the center of tropical storm Fiona was located near latitude 16.7 North, longitude 64.6 West or about 135 miles south of St. Maarten.
Fiona is slowly moving away from St. Maarten toward the west northwest near 09 mph (15 km/h). This motion is expected to continue through tonight and a northwestward motion is forecast to begin tomorrow and continue through Tuesday.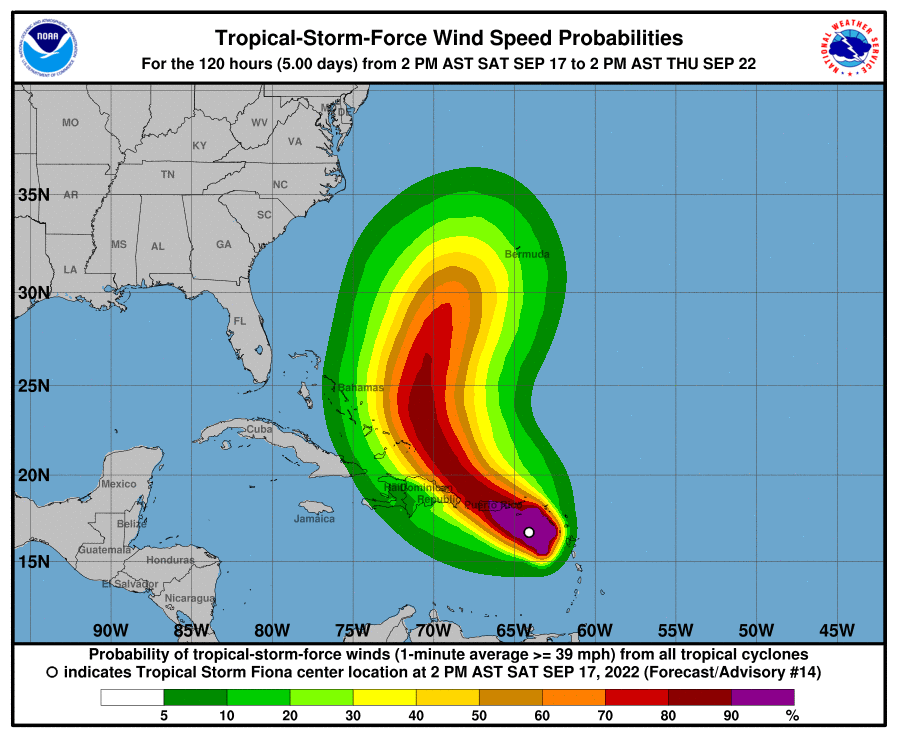 Maximum sustained winds are near 60 mph (95 km/h) with higher gusts. Strengthening is forecast and Fiona is expected to become a hurricane Sunday.
Tropical-storm-force winds extend outward up to 140 miles (220 km) from the center.
The estimated minimum central pressure is 1002 mb (29. 59 inches).
HAZARDS AFFECTING LAND:
RAINFALL: Rain bands from Fiona could produce additional rain accumulation of up to 3 inches over the local area. This rainfall may be accompanied by thunderstorms and will cause flooding and possible rock falls. Therefore, a flood advisory remains in effect for St. Maarten.
WINDS: Moderate to strong east northeasterly to southeasterly winds will continue with gusts up 35 mph.
SEAS: Seas will continue to be rough with swells up to 12 feet during the next 24 hours. A small craft warning will remain in effect for St. Maarten until further notice. All small craft operators and sea bathers should stay out of the water until further notice is given.
The public and in particular residents in areas prone to flooding or near the coast should remain vigilant and monitor the updates from the Meteorological Department and Disaster Management.
Source: The Daily Herald https://www.thedailyherald.sx/islands/nthe-tropical-storm-warning-for-st-maarten-is-discontinued